SVB Financial, which owns Silicon Valley Bank, the 16th largest bank in the US with $210 billion in assets, came out with some fascinating announcements late yesterday and early today about shoring up its balance sheet and liquidity.
After having already plunged 65% in a series of breath-taking dives, and dead-cat bounces from their startup-and-crypto consensual-hallucination peak in November 2021, shares of SVB Financial [
SIVB
] kathoomphed so far today another 55%, to around $119 at the moment, the lowest since 2016, and are now down 84% from the November 2021 high, thereby getting inducted into my pantheon of
Imploded Stocks
. [
Update: SIVB closed at $106, -60%; now trading at $83 afterhours, -69% in total for the day; that was fast!
].
The 84% plunge from the high already exceeds SVB's Dotcom Bust plunge of 77% from September 2000 through October 2022 (
my discussion in July of this SVB phenomenon
) The Dotcom Bust was a horrible creature for Silicon Valley, and SVB Financial is another indication that this current bust – we still have to come up with an appropriate name – promises to outdo the Dotcom Bust.
106.04
USD▼ -161.79 (-60.41%) today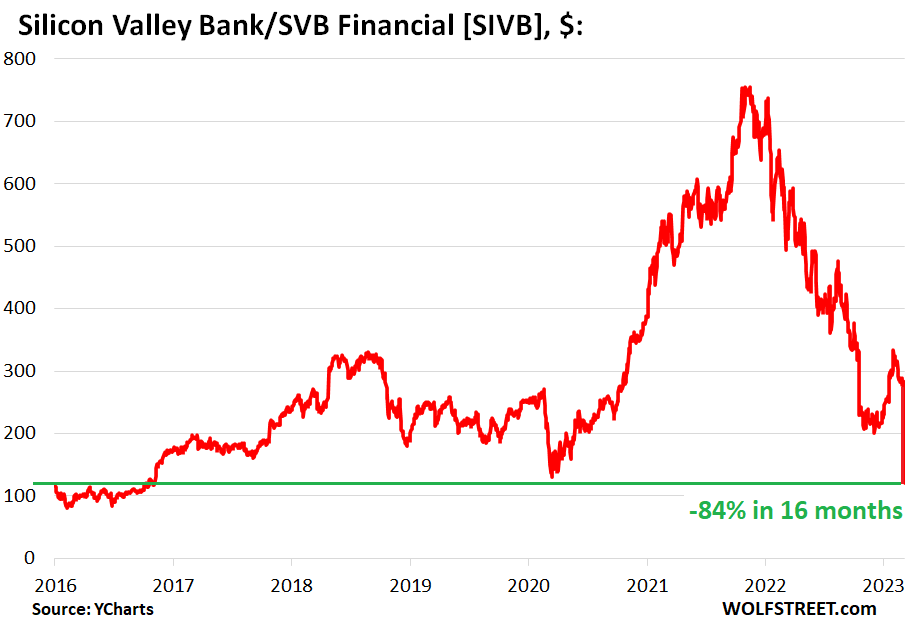 SVB is massively involved in all segments of the startup scene that is now facing a mass extinction event.
Uh-oh.