LTL trucker A. Duie Pyle temporarily cuts wages
William B. Cassidy, Senior Editor
| Apr 07, 2020 5:39PM EDT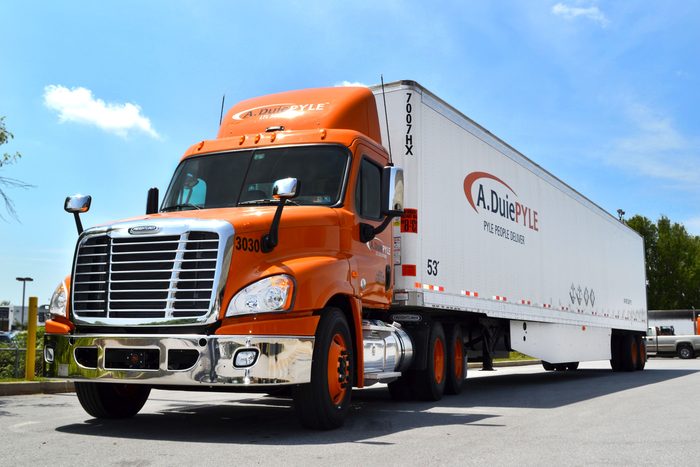 A. Duie Pyle is temporarily furloughing employees and reducing wages to weather the economic storm amid COVID-19 pandemic. Photo credit: A. Duie Pyle.
As freight volumes plummet, caught in the undertow of the coronavirus disease 2019 (COVID-19) pandemic, Northeast regional less-than-truckload (LTL) carrier A. Duie Pyle is temporarily furloughing employees and reducing wages to weather the economic storm.
Senior leadership, from the vice president-level up, will take a 15 percent wage cut, while employee wages will be cut 10 percent. The cuts will last through June 15.
Those making less than $15 dollars an hour will not see their wages cut, and no wages will be cut below $15 an hour, the carrier said in a memo obtained by JOC.com.
The temporary furlough plan will let employees voluntarily take time off without pay through June 15. All health and other benefits will be continued, A. Duie Pyle chairman Peter Latta said in an interview Tuesday. Latta sent the memo to employees on Monday.
Pyle is not the only LTL trucking company feeling the pain. The LTL industry, overall, is more dependent than truckload companies on industrial goods that today are considered non-essential. E-commerce is beginning to change that, but perhaps not quickly enough.
ArcBest is cutting hours for nonunion hourly workers and wages for salaried employees 15 percent at LTL subsidiary ABF Freight System, the company said in a US Securities and Exchange Commission filing Tuesday.
"We anticipate that the second quarter 2020 expense reduction associated with the changes in the nonunion compensation and benefits mentioned above will be in a range of $15 million to $20 million, provided the measures are maintained throughout second quarter 2020," the company said. ArcBest also said there would be "workforce reductions" at ABF Freight. ArcBest last month
borrowed $1.5 billion
under its credit agreement.
Other companies are making pay cuts as well, said Satish Jindel, president of SJ Consulting Group, noting that many of the shipper customers have furloughed employees. LTL carriers are seeing deep reductions in freight volume as non-essential businesses are shuttered.
continued...